Baptisms
Thassos Wedding | Wedding Planning, Baptism & Events Thassos

"Christening, the most important moment for your little angel and as a tender moment must definitely stand out. So if you dream of a fabulous and unique Christening, you should contact us."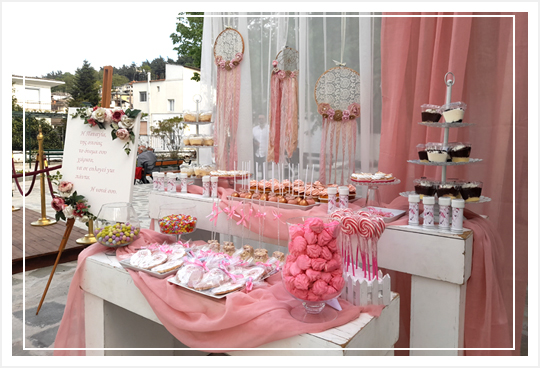 Our company "Thassos Wedding", can offer you unique decorating options for your child's Christening. Constantly updated to new trends, we are able to offer you unique decorations in the shades of pink, blue or any other color you choose for a joyful, festive atmosphere.
We manage the decoration of the temple, the design of the invitations, the testimonies. You will also find a wide range of branded Christening clothes.
We offer you the beautiful ideas for the first official community of you child. Ideas according to your wishes and the place you chose to make your child's Christening.
Creativity, aesthetics and quality are some of the features that have satisfied our customers and show us their preference for every important event of their lives.
The most special and bright day of your child's life has arrived!
All you have to do is enjoy the fabulous scenery that we have created.
---
Contact us
or come to our shop at Thassos Harbor to discuss the decorative style
you want and guide you for the best result.